By Jessi Walker
5 minute read
By Jessi Walker
5 minute read
The upcoming EU Directives are placing legislative pressure on industries that play a pivotal role in the environmental issues we are facing today. As a key player – the 2023 ESG fashion agenda is set to make some serious waves. The journey has been vast, so much so that it's left many of us confused and insecure about where to start within our businesses. We have summarized the directives shaping the ESG agenda and identified their impact on your brand.
The data collected to report on ESG activities detail the environmental, social & governance criteria that a company should uphold:
Environmental – Environmental standards consider how well a company performs concerning waste management, resource depletion & pollution. Successful environmental considerations in practice include reporting on your sustainability initiatives, using renewable energy sources, and limiting harmful chemicals.
Social – The social aspect of ESG deals with how a company manages its relationships with employees, suppliers and customers through its supply chain. In effect, this could mean operating ethical supply chains, ensuring safe working conditions, supporting diversity and paying fair wages.
Governance – This includes factors such as shareholder rights, board diversity and decision-making. High governance standards support transparency and avoid conflicts of interest.
A timeline of the EU Directives on ESG impacting the fashion & apparel industry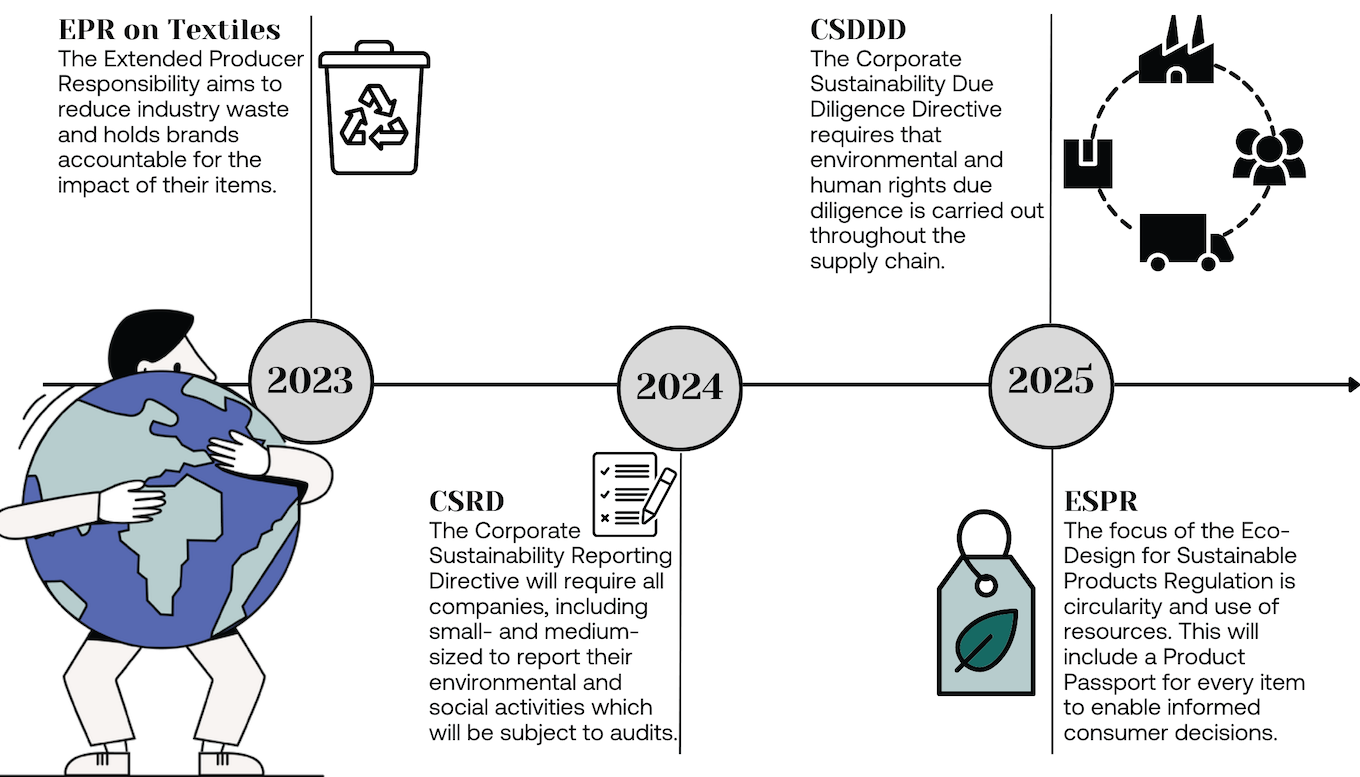 The list of upcoming new EU regulations, along with their changes and amendments is long and diverse! Understanding and knowing how to prepare for the four directives listed below will be key to your brand's success, and ability to continue to do business in the future.
EPR on Textiles
The Extended Producer Responsibility focuses on the problem of industry waste. It is a policy through which brands will bear a substantial degree of responsibility in physical or financial form, for the environmental impacts of every item that they produce. It aims to encourage design thinking, taking the complete life-cycle of a garment and accessories into account, and preventing waste at the source. It should support producers in designing environmentally conscious products and being rewarded for limiting waste and incorporating recycling strategies. The data that a brand will need to collect for compliance with the EPR includes the composition of a product and the materials used to produce it, the emissions and waste generated throughout the product life cycle, the recyclability, recoverability, and reusability of the product as well as its packaging and method of disposal.
CSRD
The Corporate Sustainability Reporting Directive requires businesses, even small- and medium-sized ones to pay attention to their operations. In addition to publishing information regarding environmental and social matters, companies will have to adhere to more detailed reporting which will be subjected to audits. The aim of this directive is to improve the quality, comparability, and relevance of sustainability reporting by companies. Brands can already start collecting environmental data, such as emissions and waste generated, social data, including employee turnover rates and diversity and governance data, like the composition of the board of directors and anti-corruption measures, to be prepared for audits later on.
CSDDD
The Corporate Sustainability Due Diligence Directive is the key regulation establishing corporate due diligence duty. The goal is to identify, eliminate and prevent negative environmental and human rights impacts within a company and its value chains. It furthermore requires large companies to make sure that their business operations are in line with the Paris Agreement set to limit global warming. A part of the supply chain data that brands need to collect is information about the company's greenhouse gas emissions, water usage, waste disposal, and use of hazardous chemicals, information on the sourcing and production of raw materials as well as details on the working conditions of suppliers and subcontractors, such as wages, hours worked, and health and safety practices.
ESPR
ESPR stands for Eco-design for Sustainable Products Regulation and focuses on circularity and the use of resources. The goal is to significantly improve the products' circularity, energy performance and sustainability. Producers will need to meet demands related to the durability, recyclability, reusability, upgradability and reparability, as well as the recycled content and footprint of their products. Collecting product data on these characteristics will play an important part in compliance with the ESPR. To increase transparency for consumers and the whole industry, a Digital Product Passport will be introduced for all items. This passport aims to facilitate being able to make conscious decisions as a consumer and also acts as an informative tool for the transition to a circular economy as a whole.
Why Data is crucial to reduce environmental impacts
Because 80% of the environmental impacts of a product are determined in the design phase, you as a brand will have the opportunity but also the responsibility to rethink the way you design your products. To make this possible, you will need to collect and structure data on all your items so that you can gain insight into where your brand can make meaningful changes. For example, information on how your fabrics are dyed might make you aware of harmful chemicals being used that can be easily replaced with more environmentally friendly options.
Legally, the data used to report on your company's ESG standards is essential for analyzing whether practices comply with existing and upcoming directives and where there is still work to be done.
The main impacts of new EU Legislations & Directives on your brand

The upcoming changes in EU legislation seem abstract at first glance, so you may be wondering what this means for your brand. Here are the top three impacts on fashion companies:
Firstly, you and your producers will need to take responsibility for every single product you create, which means having a legal obligation to consider the afterlife of your items. To move towards a more circular economy, the EU wants to hold producers accountable for what they place on the market.


Brands need to get acquainted with the digital product passport and what it will require from their business. This part of new ESG directives that falls under the ESPR will require detailed information about every component and method of production per product, to inform the consumer of optimum recyclability. The digital product passport will thus demand that you have a clear overview of all the data around each of your products.


Lastly, the fashion industry must rethink its approach to design. In the future, the focus will be on products that are versatile, long-living, sustainable, reusable & recyclable; in other words, products that fulfill the ESG criteria. Both upcoming regulations and the rise of the conscious consumer are calling for new design concepts.
Want to learn more?
Sign up to stay up to date with what is coming in the ESG fashion space and get informed about future events.