By Linda Massi
2 minute read
Linda Massi By Linda Massi
2 minute read
When you are working with a supplier based abroad, on top of the payment terms, you need to negotiate which shipping agreement to use.
In 1936, a standard called Incoterms was introduced to describe the various delivery terms available. They all define different agreements that can happen between the buyer and the seller in international trading and influence both risk and cost.
The delivery terms vary based on where the supplier's obligations end and the buyer's ones start, as well as where risk is transferred.
The transfer of risk refers to who has to cover eventual damage or loss of goods, whereas the transfer of obligations indicates who has to pay for what (freight, transport, insurance).
Learn more about freight, tax, and insurance in the apparel industry.
In total, there are 11 Incoterms. However, in fashion trading, Ex Works, FOB, CIF, and DDP are the most used. Here is everything you need to know about apparel trading delivery terms - find out which one is the best for you!
The Most Common Delivery Terms in Fashion Trading: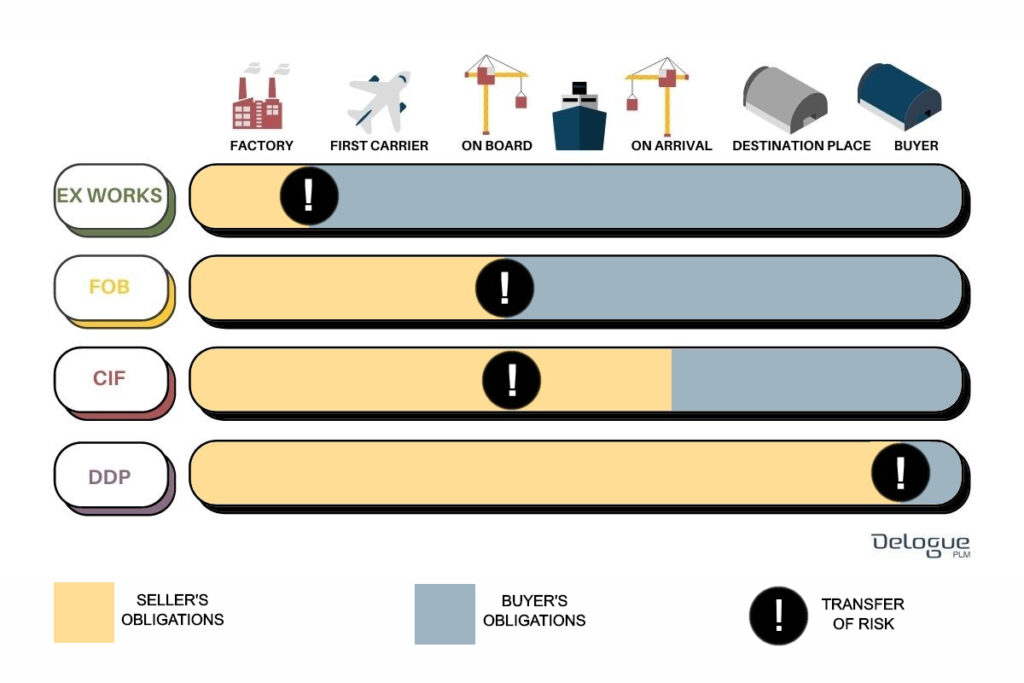 Ex Works
The buyer has to pay for all transportation, taxes, and insurance from the factory to arrival.
FOB (Free on Board)
The buyer has to pay freight, taxes, and insurance from a named port.
With FOB, the buyer is responsible for the delivery and has to take care of everything, from carriers to shipping methods. This delivery term gives the buyer a higher level of control. FOB is especially useful when buyers have connections or preferred shipping carriers that can guarantee them a favorable price.
CIF (Cost, Insurance & Freight)
The buyer has to cover freight, taxes, and insurance from a place of destination. However, the supplier is responsible for the loss or damage of goods until they arrive at the destination port.
Since the supplier is responsible for the delivery, the buyer does not have to choose carriers, nor stress about shipping methods, transit times, or insurance details. CIF is usually more expensive for the buyer compared to FOB.
CIF can be a great delivery term when the buyer is working in a foreign country for the first time. It rarely is the preferred choice for experienced buyers, though, since they often already have trusted carriers and would prefer having more control over the delivery methods.
DDP (Delivered Duty Paid)
The supplier pays for all freight costs, taxes, and insurance.