Product Development
Introducing Seamless Integration: Import Style Data from Delogue PLM into Eezeebee PIM
By Vilmer Ståhle
2 minute read
By Vilmer Ståhle
2 minute read
We are thrilled to announce a new feature for Eezeebee customers that will revolutionize the way you manage your product data. With our latest integration, you can now effortlessly import style data directly from Delogue PLM into Eezeebee PIM, saving you valuable time and effort.
Say goodbye to the hassle of manually entering product data into multiple systems. Our seamless integration enables the automatic import of SKUs into Eezeebee PIM, streamlining your product data management process. Now, you can focus on what truly matters – growing your business.
Here are the key benefits of this integration:
Centralized Product Data Management: With the import functionality, you can easily centralize all your product data in one place. No more juggling between different systems or spreadsheets. Everything you need is conveniently accessible within Eezeebee PIM.

Effortless Import of Designer Product Descriptions: We understand the importance of accurate product descriptions. That's why our integration allows you to import designers' product descriptions directly into Eezeebee PIM. Say goodbye to manual copy-pasting and hello to efficiency.

Eliminate Double Data Entries: Time is precious, and we want to help you make the most of it. By automating the import process, you can bid farewell to tedious double data entries. Let technology do the work for you, while you focus on driving your business forward.

Minimize Product Data Errors: Manual data entry is prone to errors, which can have a negative impact on your business. With our integration, you can minimize product data errors significantly. Ensure accuracy and enhance the quality of your product information effortlessly.

Reduce Time to Market: In today's fast-paced market, speed is everything. By automating the import of product data from Delogue PLM into Eezeebee PIM, you can accelerate your time to market. Stay ahead of the competition and seize new opportunities quickly.




So, how does it work?
During the product development process, designers and manufacturers create product data in Delogue PLM. This integration leverages Delogue PLM's structured and centralized approach to product data handling. As a result, a significant portion of the product data required by Eezeebee is already prepared for import.
By harnessing the power of the Delogue PLM + Eezeebee PIM integration, brands can effortlessly import all their product data. Enjoy the benefits of streamlined workflows and enhanced productivity.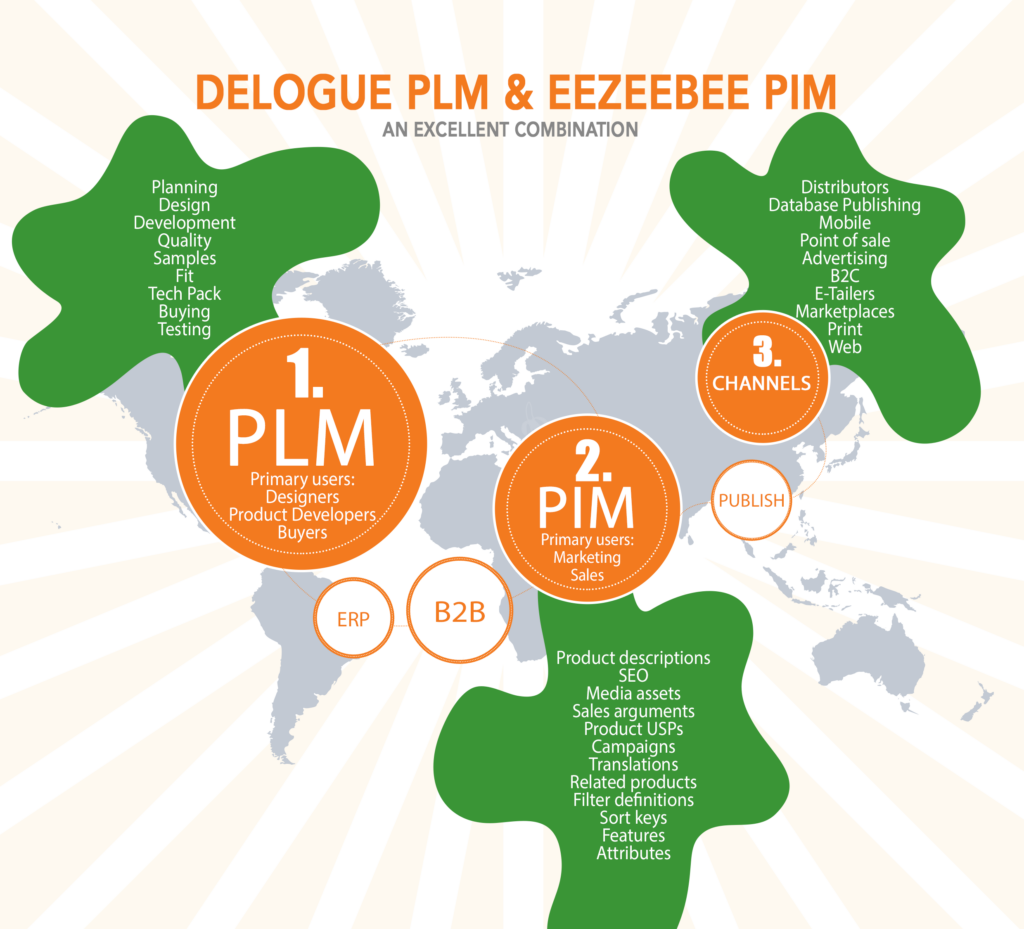 Ready to get started?


To explore the possibilities and learn more about how this integration can benefit your business, simply reach out to your dedicated Eezeebee sales representative. Alternatively, you can book a demo to see firsthand how Delogue PLM works and seamlessly integrates into Eezeebee PIM.

Don't miss out on this game-changing opportunity. Request a demo today and experience the power of streamlined product data management.

Request a Delogue Demo