By Linda Massi
3 minute read
By Linda Massi
3 minute read
In the past couple of months, many of us had to switch to a more remote lifestyle. With several employees working from home, relying on the right software is more important than ever. To understand more about how SPY System and Delogue PLM can help you get the most out of your work, we sat down with two of our clients.
ARKK Copenhagen is a footwear company creating comfortable and innovative sneakers embodying Scandinavian values. Their annual collections include shoes, accessories, and an apparel line, available in over 37 countries. Mette Engelbrecht is their Design & Production Manager. She told us how her team uses both Delogue PLM and SPY to achieve dynamic brand goals.
Knowledge Cotton Apparel was ahead of its time when it was introducing organic and sustainable menswear clothing. Buying Manager Anders Langhoff-Jensen described to us how Delogue PLM improved their communication, both internal and external.
Delogue PLM helps you develop your products in a more structured way
Delogue PLM is a Product Lifecycle Management software, which allows you to have all the information related to product development in one specific place. From communication with suppliers and team to sample requests, it's all in the same program. "I use Delogue for the whole development process until we have all the samples home," says Engelbrecht.
Langhoff-Jensen is a big fan of Delogue's PLM communication features. "The reason why we started with Delogue is because we had this lag in communication between us and all our suppliers and partners." Engelbrecht agrees, explaining, "I use Delogue to keep track of all our collections and to communicate with suppliers. I also use it to keep an eye on the samples, which stages they are in, etc."
Delogue PLM also allows you to monitor designs from start to finish. Every change and comment is recorded onto one place that, for once, isn't someone's personal email. For both ARKK Copenhagen and KnowledgeCotton Apparel, this was the game-changer.
"
All the history of one style is in one place. When it comes to communication with the suppliers, we can keep track even of small details.
Anders Langhoff-Jensen, Buying Manager at Knowledge Cotton Apparel
Handle your orders and manage your inventory with SPY
SPY System defines itself as an ERP with a B2B portal featuring wholesale order management. After having developed their product with the help of Delogue PLM, our clients use SPY to handle orders and inventory.
Engelbrecht notes that: "We use SPY more as a sales system. This is where we receive orders from our customers and place all the orders for our suppliers."
Export-Import: an easy way to combine Delogue PLM and SPY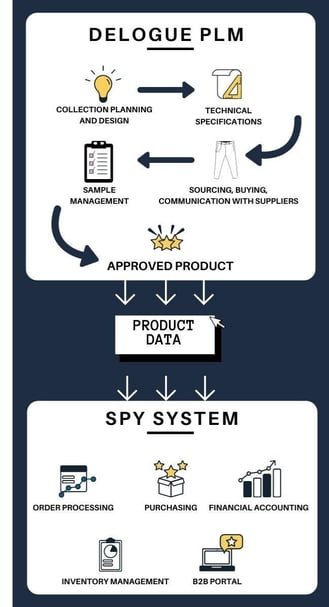 The integration of SPY and Delogue PLM was one of KnowledgeCotton Apparel's main concerns. "SPY is where we place orders. For us to start up with Delogue, it was important that these two systems could communicate," says Langhoff-Jensen. SPY created an export-import function to allow data downloaded from Delogue to be uploaded onto SPY.
According to Engelbrecht, making the two systems communicate is simple. "I take out all the information I have in Delogue and import it into SPY when I have a new collection," she says. "After SPY introduced the import function, I can export an Excel sheet from Delogue and put it into SPY. It's quite easy."
Engelbrecht appreciates the way both SPY and Delogue PLM are Cloud-based, "SPY and Delogue are both online so I can access them from wherever I am." A function especially important when traveling or working from home, which ensures all information is updated even when no one is in the office.
Learn more about how to combine Delogue PLM and SPY System or get in touch with our sales department.