By Ella
5 minute read
You get an email in your inbox with a link and a goodie box arrives at your address. There are drinks, nibbles, small fabric cuts. You are about to immerse into the digital environment of a virtual showroom in the comfort of your home office – it is the ultimate interactive experience.
It's not what you are used to: traveling around the world, doing your best to see all the brands you want to in just a few days, while in the back of your mind you are thinking about you'd like to enjoy some free time in the city you are visiting, for example: pretty Barcelona. It's usually overwhelming.
With the pandemic, the traveling odysseys stopped and brands had to find new ways to showcase their products. They turned to digital alternatives, such as the much-talked-about virtual showrooms. Even with things cooling down, the many who have seen the benefits are asking why they would go back to 'normal'?
It's a pressing question that deserves some expert opinion.
Virtual experiences worth sharing
We met virtually with N'fellows, the Creative Agency that recently collaborated with Vonoa to build Vila's 3D Universe, to talk about virtual spaces and interactive experiences. As well as taking care of the technical side of building a virtual showroom, N'fellows is also responsible for the whole branding process, making sure the virtual experience matches the brand's personality and tone of voice.
"We started this agency with the goal of challenging our clients to be more innovative and creative. We want to create things that are worth sharing for our clients and their consumers: that's why we've done a bit of everything. During the pandemic, we were contacted by a few fashion brands and offered them the idea of using virtual reality – it all started from there," recalls Lukas Holtmann, CEO.
"It was a great way to make an extraordinary brand experience for the brand to sell their products."
Displaying all types of content
Although Vila's universe was only in 3D, the virtual spaces they built blend in all types of content: videos, 2D stills, 360 photographs, etc. In fact, it's not necessary to include 3D items.
"In the case of Vila, the mission was to create everything in 3D. But we have also built virtual showrooms with only 2D content or a blend of the two. An example is the one we did with fashion brand NÜ," explains Jacob Bjerring, Head of Spatial at N'fellows.
"Some of the content was already in the hands of NÜ, but we unified it in the virtual showroom. It's a great tool for sales meetings. If you compare it to trade fairs, a virtual space gives people more time to immerse in the world of the brand."
VILA by VONOA & N'Fellows
A tool that scales for sales
Sales agents find virtual showrooms very useful – either for a sales meeting or for sharing via email with their clients.
"In Germany, for example, instead of going out to visit stores, they call clients over Zoom and showcase their collections via a link on the web or an app on their desktop and/or mobile. Afterwards, the client with this link can log in and explore the new collection at their own pace. It is easier to write down which pieces they want and then inform the agent, so they can order it," says Jacob.
Before, agents would see over 100 stores in just a few days and end up overwhelmed. Imagine a sales agent listening to dozens of different ideas at numerous meetings. Once they've returned home after a long flight, they've probably forgotten 90% of what they heard. By using a tool like a virtual showroom, you let them dig deeper into the brand, so you will be ever-present in their mind.
"Our clients have expressed very good feedback about the virtual experiences. People are in a space where they are mentally ready to buy and explore the new collections. They're sitting at home relaxing with the goodie boxes that come with the experience," says Carina Ellegaard, Creative Concept & Spatial Designer.
It's not only about virtual showrooms
The guys at N'fellows also collaborated with Vonoa to conduct Stine Goya's 'Morning Workout SoMe' campaign that presented their new collection – another example of the vast creative ideas that 3D technology and animation enable.
They also work on campaigns to generate hype around a product before the actual launch. They recently did one with Samsøe & Samsøe and EASTPAK, who produced together a line of backpacks and fanny packs. The brands didn't want to use still photographs, so N'fellows proposed an interactive content experience that was later featured in HypeBeast. The virtual space showed the different bags inside a subway.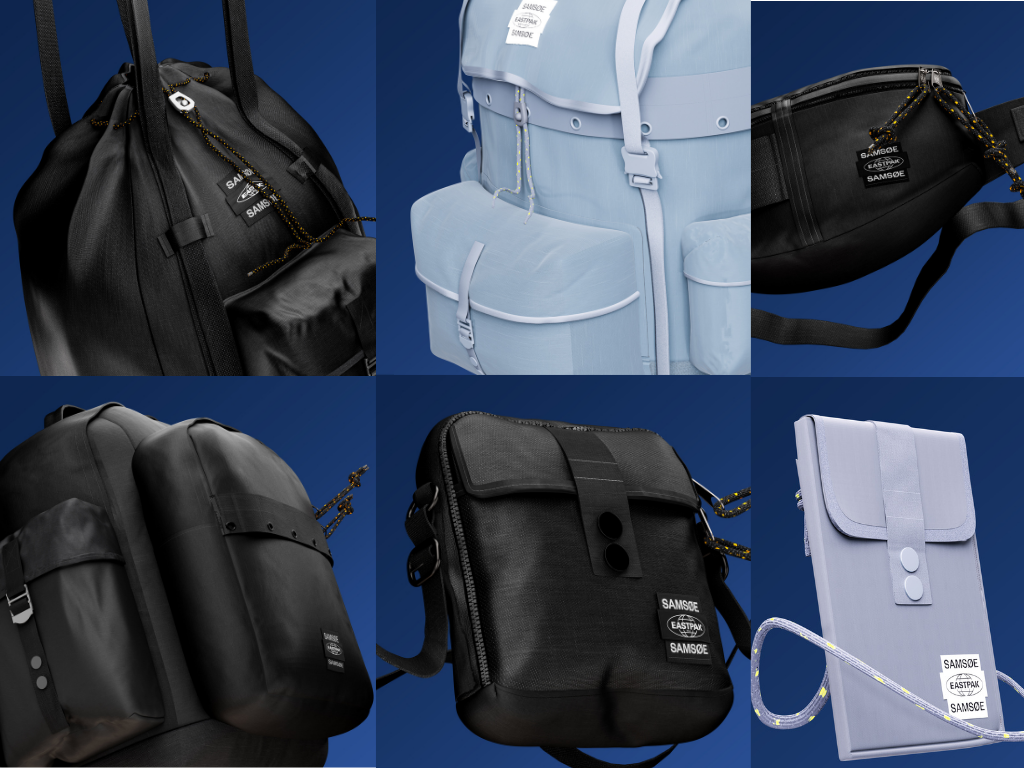 EASTPAK & Samsøe & Samsøe by N'Fellows
What's the future of virtual showrooms?
The three of them agree they are here to stay because brands have already seen the various benefits. But N'fellows also contends that there will be a synergy between the online and the physical world.
"The virtual possibilities for brands to sell their styles will also stay after the pandemic. To stand out in the physical world, brands need more than just a flagship store. You need to enhance the consumer experience, and part of it is the online experience you combine with the physical experience," says Lukas.
For those worried about trying virtual spaces, Carina has reassuring news: "It's as good as a physical experience for the user. It's even a better one in some situations. It allows you to examine a collection from bottom to top, including behind the scenes, backstage and other storytelling that consummates the brand's DNA."
8 benefits of Virtual Showrooms
Accessibility. Easier for more people to access your brand from anywhere in the world, which increases your brand awareness.
Personal. Virtual spaces allow for a more personalized experience in which the user can immerse and engage with the brand's DNA without any interruptions.
Display of various content. Share video, photographs, 3D designs, animation etc.
Connection to B2B platform. Your client creates a wish list in the virtual showroom and later can be redirected to make the purchase.
Builds hype. By showing something that isn't produced yet, you can create a hype about it before the launch.
Less traveling. Lowers your environmental impact as a brand.
Empowers smaller brands. For smaller fashion brands that don't have stores, the virtual world creates a more accessible space, enabling them to be seen by people all over the world.
Can be used in a variety of industries: Furniture, lifestyle, interior, sports.