By Ella
3 minute read
Ella By Ella
3 minute read
We are a user-driven platform, and we are constantly trying to improve Delogue to fit our users' needs. Not long ago, we got a wish request that went like this:
"
"I would like to be able to print the thumbnail view so that I can have a physical overview of a certain group of styles."
Delogue user
We understand you are visual
Everyone likes to work with printouts, they are useful and give you a visual overview of your current collections. Let's picture three scenarios where you would use it.
Scenario 1
In the Design and Product Development departments, we know you like to have a collection overview nicely printed out so you can hang it on the wall and have a better visualization of what you are working on. This printout can show a particular collection, a season, or a drop and contains basic data like style name, number, season, supplier, material group, etc.
Scenario 2
Your team is doing a product meeting — it usually takes place every season — where you take a look at the developed styles and select which ones you keep and which ones you don't. For this you prepare a printout.
Scenario 3
You are having an in-house sales meeting, where you need a printout of the collection with the wholesale prices combined with a suggested retail price.
Making your manual processes smarter
Nowadays, what do you do to resolve one of these scenarios? You get your design assistant to create a visual document in InDesign. The assistant builds a layout by dragging photos and adding data — a task that requires a few hours to complete.
When you are working on a design, changes are happening at all times. Product data can rapidly become obsolete at the time you finish your printout in InDesign and you will have to change it over and over to fit the latest changes made. Working this way can be risky, and lead to mistakes, and you will most likely end up printing the wrong version.
Very manual. Very time-consuming. Not very up-to-date, right?
Imagine you are using Delogue, and you need to do one of these printouts. With our new feature the Thumbnail Print, you are a few clicks away from sending the Collection Overview straight to the printer.
What are the benefits of the Thumbnail Print?
Delogue allows you to set a filter in which you can click to sort from style to style to see the information. You can select which data you want to print and group it by category, for example, all jackets, all accessories, etc.
Requirements are always different from company to company on which data you want to include on these overviews — both in terms of business model, the amount of master data, the purpose of the collection overview, and personal preference. Therefore, our new feature offers a high level of flexibility to create your collection overview the way you like.
It's fast, it's personalized, it saves you time, and it displays up-to-the-minute information.
What's not to love?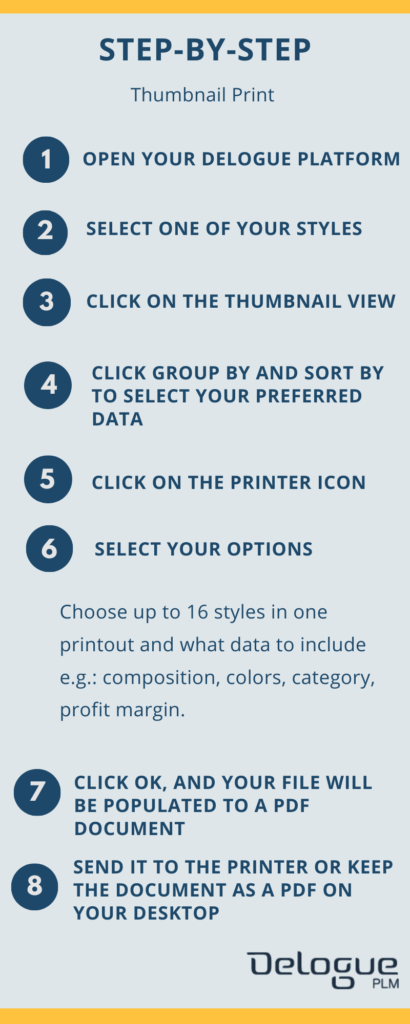 *The Thumbnail Print feature has a customised version, which you can adapt to your needs. Only available for professional licenses. If you would like to know more or get a trial reach out to our sales team.