ARKK is on a journey to revolutionize the sneaker world. To keep up with the rapid growth, they teamed up with Delogue to make their product development process more organized and efficient.
One sneaker marks the beginning
Childhood friends Thomas Refdahl and Kasper Høj Rasmussen were sipping on gin and tonics when they had a revelation: the world needed a comfortable and functional sneaker, that would illustrate the Scandinavian design. They took it upon themselves to fix the problem and embarked on an 18-month adventure to design their first sneaker.
ARKK Copenhagen was founded under the ideals of simplicity and beauty. ARKK's first design, the Raven, was launched in 2014. With its lightweight, breathable, and easy slip-on design, it's still one of their bestsellers. Nowadays, the company is a world-renowned footwear brand, and the biggest cities in the world are being walked by ARKK's sneakers.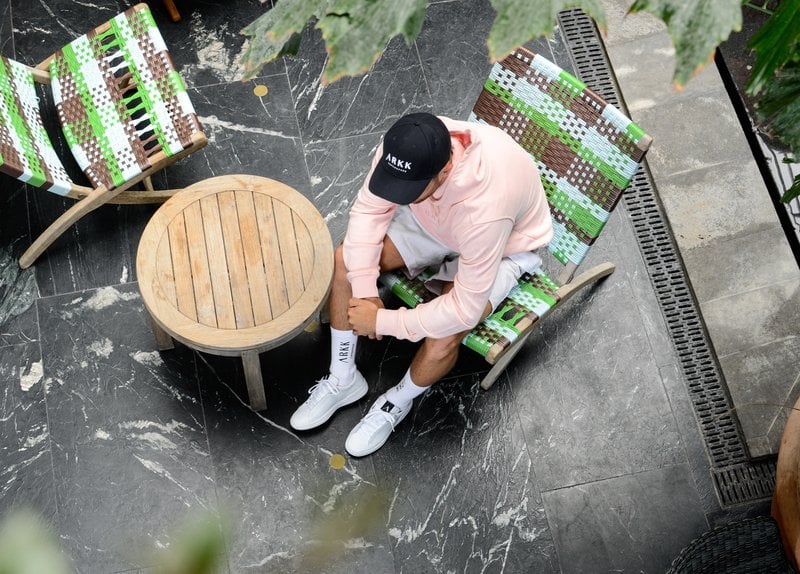 Rapid growth brings challenges
A growing business comes with its own challenges, and Mette Engelbrecht, Design & Production Manager at ARKK, knows it well.
"I am a very structured person, but not everyone on my team is," she says.
After six years of dynamic growth, ARKK realized they needed shape and organization. Implementing a solution specially created for the fashion industry felt natural, and Delogue became their ultimate choice.
Easy-to-implement tool
With an apparel and accessories line, thirteen different active footwear styles, and more in the works, ARKK's team has no time to waste.
"No one has the time to spend a million hours to learn a new system," says Engelbrecht, who appreciates how easily Delogue fits in her team's workflow.
"You don't need that much of a learning process with Delogue, which I think it's very important," she says regarding Delogue's fast onboarding process. "You just need to know the basics and you get started right away."
Accessible from everywhere
ARKK takes pride in designing their sneakers in-house – in Copenhagen. However, they are out in the world scouting for the best materials to deliver on their signature values: comfort and functional design. Lately, remote work has replaced constant traveling, but they still need to stay up to date, no matter where they are.
"I like that Delogue is online so I can access it no matter where I am."
Delogue's cloud-based system allows Engelbrecht's team to keep updated, at all times. "Even if I haven't been CC'd in an email, I can just log into Delogue and update it myself," she notes. "Everything's on the same platform, and the program requires you to be structured."
Engelbrecht sees a significant improvement to ARKK's previous way of working. "Before everything was in my inbox, meaning that if I was away, no one would know what happened."
READ MORE: Optimizing remote working in the apparel industry.
Maintaining high-quality standards
Quality is at the forefront of ARKK's products. It takes 18 months to develop a sneaker, just like it did for the first Raven. Their processes are long because they don't want to under-prioritize research, design development, and material testing.
Engelbrecht uses Delogue to maintain the high quality of their products and keep prices accessible. "Working in the production part, I appreciate being able to keep track of how prices develop through the years." By using Delogue, Engelbrecht has the entire history of the style before her eyes.
Supporting growth
"Since we implemented Delogue, our workflow has become more structured."


ARKK now manages the product development process without wasting time on admin tasks. The centralization of information allows ARKK to keep thriving, even while employees are working from home.
Delogue's agility makes it the perfect software for a company that's growing quickly. With a continuous increase in revenue and rising popularity, it's clear that the gin and tonic idea went a long way.